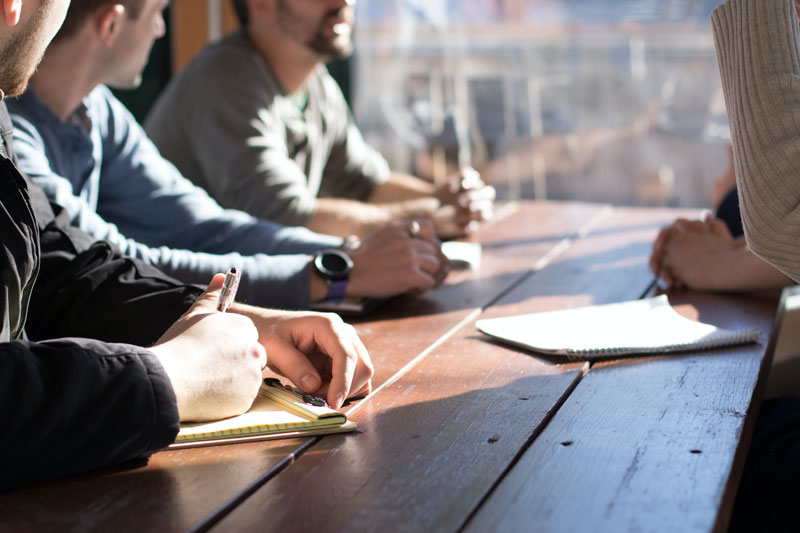 30 Mar
Creating a Successful Learning and Development Strategy for Your Team
A 7-point plan for leaders in the pharmaceutical, biotech and medical device industries
Planning and executing an effective learning and development plan for your team or organisation is critical for several reasons. Firstly, it is important to grow your team's capabilities, in line with the overall business goals. Secondly, it helps attract and retain talent who are far more open to moving around to find the perfect role. Thirdly, it is important to keep your team up to date with the latest regulations, techniques and/or processes. Fourthly, learning and development helps motivate and engage your employees with clearly laid out learning pathways. Finally, a learning and development plan is closely aligned with knowledge management (the process of creating and retaining knowledge in your organisation).  
But how do you go about formulating a learning and development strategy? As with any strategy it requires some time and planning, however it does not need to be a complex exercise. This article has broken it down into seven manageable elements.
We recommend using the seven components as guidance, building your plan around them.
Align with business strategy
For any learning and development strategy to be successful it must align with the overall business objectives and the goals that have been mapped out. The more long-term this strategy, the more proactive you can be. However, there will always be short term solutions needed that will require a more reactive approach. For example, if your business has decided it is going to use big data and artificial intelligence in its manufacturing facilities over the next 5 years. If you are a leader in manufacturing, you will need to begin developing your team for the future. You may begin with basic training for yourself, followed by more advanced technical training for your team.
Identify the skills gaps
You need to establish what skills your current workforce has and what they will need to ensure your business achieves its objectives and priorities. Closely linked with the first point, once you know what direction your personnel are heading (aligned with your business goals), it is critical to then map out the journey to get there. Firstly, you need to identify what skills gaps your workforce has now and where they need to be in the future.  The learning and development plan is aligned with the business objectives assessing the skills required and putting in a plan to upskill.
An example of this is pharmaceutical and biotech companies gravitating towards advanced therapies. Many companies believe these will be part of their future portfolio and are investing heavily in the research. However, being new technologies means a lack of expertise among employees.
If possible, you should put a value to this knowledge gap. What will this cost the business if it is not in place? How much would it cost to hire a whole new team of experts or consultants within this area? By making sure those with transferrable skills are trained will be crucial over the coming years.
Get 'buy in' from other leaders and HR
To execute a successful learning and development it is important to get 'buy in' from the key people in your organisation such as your manager, HR and leaders from other departments. To ensure you maximise the value of any planned development you need to be working together and have them onboard with your plans and ideas. This works both ways as it is important for you to be listening to their needs and that of the group. A learning and development strategy should be built both from the bottom up and from the top down.
Use a mixture of learning and development tools
There are many tools available to help individuals in your team learn new skills and develop. Once you have identified the skills gaps and factored in your overall business goals you need to decide on those tools and methods. Below is a list of those tools and methods.
On-the-job training – Probably the most widely used method for personal development. This may be one to one learning with a more experienced person. It should be structured with activities and tasks that are designed to develop desired knowledge and skills.
On-demand materials – Create a resource pool of how-to guides and training material. This allows your team to self-learn in their own time when they need it. They can be reading materials or videos.
Shadowing – Shadowing is a great way for a someone to learn. Make sure you pick someone who is patient and willing to help. Be mindful that the person being shadowed will not be able to work as efficiently as normal.
Coaching and mentoring – A coaching and mentoring scheme may help develop your team members. Assigning team members with more experienced senior members of the organisation will help them grow and develop.
Job rotation – A great way of developing new skills and knowledge is to rotate your team with other departments. Although distrustful at first, it will benefit your organisation in the long run.
Training – Courses can be both formal and informal. Internal and external. Online or in in-person. Importantly, they allow designated time for learning.

Internal training – Your organisation may run internal courses and they will be focused on your products/processes.
Team training – Training together as a team/department will help you learn and overcome specific issues you are all facing.
External training – If you need training on a topic not covered internally it may be a good idea to look at external training providers. You will then be able to learn new ideas and skills from an expert. You will also meet and learn from professionals in other organisations.
Blended training – A combination of online and in-person training. This method keeps the learning engaging.
Carve out meaningful learning journeys
The design of your learner journeys is essential to the success of the learning. It is important to use the toolbox discussed previously and map out a learning journey for each individual and the team collectively. It is important to remember that each person is unique and requires a unique learning journey dependent on their experience, learning preference, complexity of knowledge/skill to be learned and importance to achieve business goals.
Gone are the days of sitting in a classroom for 9 hours and your manager expecting you to come out with all the answers. Learning should be looked at as a continuous process over a period with feedback and reinforcement. You should also consider a variety of learning and development tools to achieve knowledge development. For example, consider attending both online and classroom training, delivered both internal and external to your organisation.
Most importantly, the employees need to have an opportunity to input their new knowledge into a practical environment. There is no point in developing new skills and knowledge which the business structure does not allow them to use. Development should not be reliant on training courses alone and the environment should encourage learning, forgive mistakes and embrace change. Development will come from practical implementation, feedback and reinforcement. consider mentoring and on-the-job training before and after training courses to help drive continuous learning.
Execute
Once planned it is time to execute your learning and development plan.
Measure the impact on business
Evaluating training and measuring its effectiveness is crucial. This will help get companywide support and additional business resources in the future. Gaining initial feedback and evaluating the effectiveness of a training can be relatively simple. However, it is much more challenging to work out the impact the training has had or the Return On Investment (ROI) for the business. Understanding whether behaviours have changed is usually a long term and continuous process (like the learning). There are several methods to calculate the ROI. The most popular are Kirkpatrick, Brinkerhoff 101 and the Anderson model. If you can calculate the value of the skills gap initially in your planning this will be helpful at this stage.
Written by Daniel Harding and Alexander Pearce
Daniel is a Director at Educo Life Sciences and has experience developing team training solutions for (bio)pharmaceutical and medical device clients. He has helped clients achieve business objectives with learning programmes that meet their specific needs and requirements.
Alex is a Director at Educo Life Sciences and has extensive experience of designing technical training programmes for the pharmaceutical, biotech and medical devices industry. He has developed both classroom and online training to support the development of life science professionals.